DFDC has recently received funding from Arts Council England to fund the Research and Development of their latest project These 4 Walls.
These 4 Walls is a reflection of the challenges, struggles and small miracles that have taken place behind closed doors in lockdown. The work will reflect of how our lives shifted and spark honest and hopeful conversations about how the pandemic has affected our mental health.
These 4 Walls will take place inside a house-shaped frame. The project brings together the DFDC team for the first time since the start of the pandemic, to share their own experiences as they develop this work.
DFDC will be working with long term collaborator and visual artist, Nicola Flower. Nicola will be creating a textile piece, in the form of a pair of curtains, which will hang in the house frame. The piece will be illustrated and embellished with lockdown stories collected from the public. Throughout the project, there will be opportunities for the public to contribute to Nicola's work through sharing their stories, drawings and embroidery which will feature on the curtains.
DFDC once again welcomes musician/ composer Aleph Aguiar onto the team to develop an original sound score for the work. We are also delighted to be working, for the first time, with film maker Alice Underwood. Having trained as a dancer, Alice uses her specialist experience to capture dance in a sensitive and inspiring way.
DFDC have a reputation for boldly reimagine lost or forgotten stories and shining a light on unheard voices. These 4 Walls see's Daisy and the team tackling a more modern theme with the view of capturing this moment in our own history before it becomes forgotten.
DFDC aims to make These 4 Walls a legacy! The research and development will begin in 2021, with the aim of touring in 2022. We will be revisiting the project in 2031 to see how attitudes and awareness towards mental health have shifted and changed in the decade following the pandemic.
Throughout the project, DFDC will be working with Applause For Thought, who advocate for better mental health awareness within the arts and entertainment industry. They will be supporting the creative team in the creation of These 4 Walls.
Check out our Blog –>> for an insight into week 1 of research and development.
WORKSHOP OPPORTUNITY:
These 4 Walls FREE movement workshop for adults (18+).
Tuesday 17th August 10:00-12:00 at the Laban Building, Creekside, London, SE8 3DZ
Limited capacity, booking essential. Email info@dfdcollective.co.uk to book your place.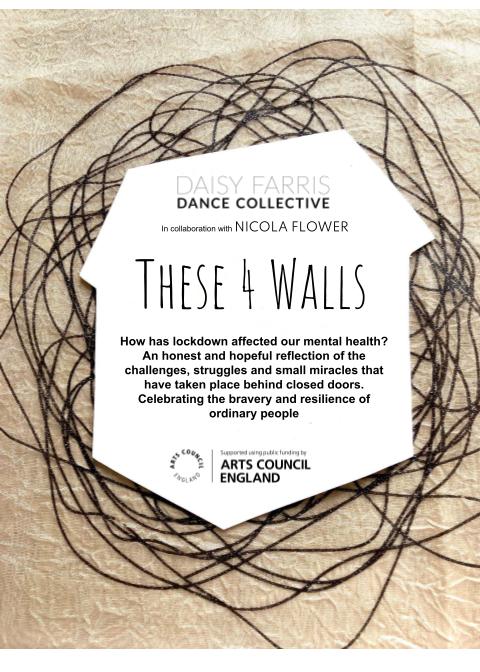 If you, or someone you know, are seeking support with mental health, visit the Support and Resources page on the Applause For Thought website.