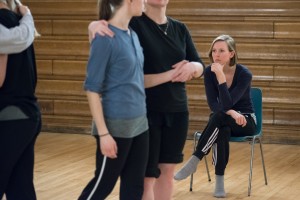 Daisy completed her BPA (Hons) at Northern School of Contemporary Dance. In 2012, Daisy joined Transitions Dance Company and achieved an MA in Dance Performance at Trinity Laban Conservatoire of Music and Dance. In 2013, she established Daisy Farris Dance Collective and began creating work for the stage. She developed her choreographic voice through her first two works- 'Silence the song in them…' and 'Learning to see'. Both works were performed at platforms and festivals throughout the UK, including: Resolution!, Swallowsfeet, Accidental Festival, Footprint Dance Festival, and Big Dance.
In 2014- 2015, Daisy was commissioned by Medway Council as part of the IN-SITE project. This project was a turning point for Daisy's choreographic identity as she became interested in site-specific work and dance film. Through the project she developed a wonderful collaborative relationship with Nicola Flower. Daisy and Nicola will continue to collaborate throughout The Princess Alice project.
Through the IN-SITE project, Daisy met internationally renowned artist Michael Pinsky. Michael commissioned Daisy to create a piece for the launch of his installation 'I'm Laughing At Clouds', which was installed at the new Anglia Ruskin University campus in Cambridge.The project was supported by Anglia Ruskin University who also sponsored the work to be performed as part of E-Luminate Festival 2016 in Cambridge.
The Princess Alice project is set to be Daisy Farris Dance Collective's most ambitious project so far. This is the first time Daisy is using a historic narrative as a choreographic starting point. She is looking forward to involving a range of participants in the research and development process. Daisy talked to the alumni team at Trinity Laban Conservatoire of Music and Dance about The Princess Alice project in a recent interview. Read the interview on the TLAlumni Blog.
Daisy is also a freelance dance teacher and is currently teaching for Trinity Laban Conservatoire of Music and Dance on the Learning and Participation programme, Artis Education and Bastet School of Dancing.